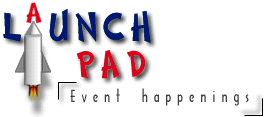 Launch Pad is the take off point for events happening around us. College festivals, big bashes, rock shows, you name it. To get it listed here, send us mail at Junta@Apnanet.com with the subject heading "Launch Pad". It would help if you give us a couple of days' breathing space.
---
Fusion '97
Fusion '97 is the web site of Vasantdada Patil College, Sion, Bombay.
The festival will be held on Feb 27, 28, and March 1, 1997. If you can't be there, at least see what they have to offer you on the web.
---